Search found 143 matches
by Peter-1

18 Mar 2020, 03:26
Forum: Spectrum
Topic: Radon decay products
Replies: 4
Views: 1119
A little experiment on the subject. I put a thin wire 3 meters long for 5 hours on a high voltage of 10 kV. Negative pole on the wire, positive pole grounded. After this time the high voltage is switched off and the wire is wiped off with a filter paper soaked in acetone. Immediately place the filte...
by Peter-1

13 Dec 2019, 00:57
Forum: Spectrum
Topic: Boltwoodit
Replies: 1
Views: 614
Hello,
I got a small piece of mineral from namibia. It is Boltwoodit which is slightly radioactive. The fine yellow needles are easily recognizable. The spectrum shows very nicely the products of the decay series of uranium.
Peter
Hello, I have now measured my sample with apatite from brazil and can see very well the decay products. Bi212, Ac228 and Tl208 shows thorium. The background shows 16 cps and with the apatite it is 170 cps. The whole stone weighs 160 grams and has a nice blue color. Peter Apatit-Bras.jpg Apatit-Spek....
by Peter-1

03 Dec 2019, 20:52
Forum: Spectrum
Replies: 17
Views: 2281
hello,
a very interesting report. Thank you for showing us the photos as well.

greetings
Peter
by Peter-1

27 Nov 2019, 01:53
Forum: General discussion
Topic: Mini Xray xrf
Replies: 13
Views: 2241
Hello Taray,
I am using some Am241 from a smoke detector for the XRF.
This goes from 15 keV to over 45 keV quite well.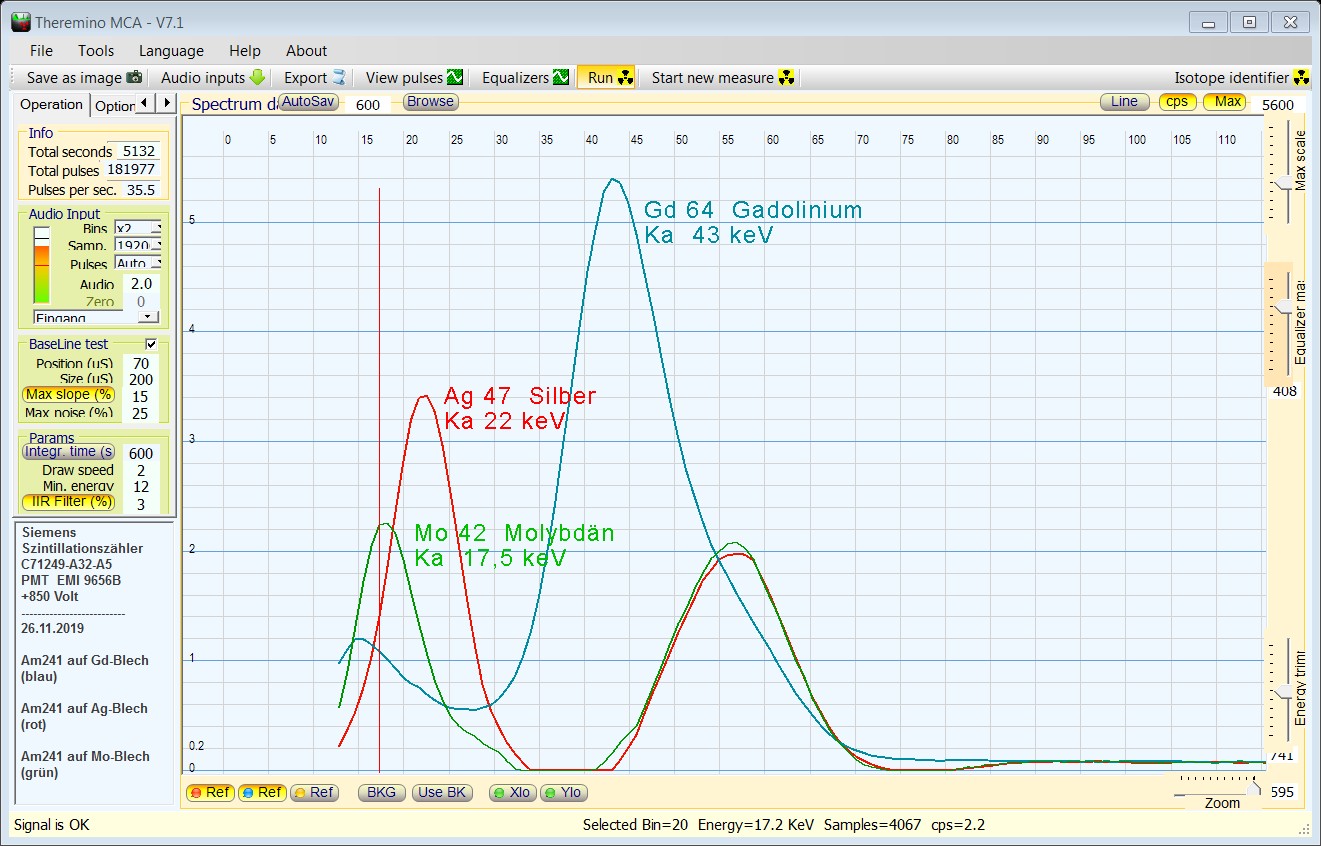 Peter
by Peter-1

09 Nov 2019, 01:15
Forum: Spectrum
Topic: Flossenbürger Granit
Replies: 1
Views: 478
Hello, a few days ago, I received a sample of granite. This granite from the east of Germany is known for its increased radioactivity. It can be seen in the spectrum very well the decay products. From the count rate and the size of the stone I have calculated a value of about 500 Bq / kg. BKG cps 16...
by Peter-1

25 Oct 2019, 02:07
Forum: General discussion
Replies: 7
Views: 1601
I can show two examples of my old glass tubes. An X-ray tube for thorax imaging and a large tube for use in computed tomography.
for power CT Peter
by Peter-1

24 Oct 2019, 19:08
Forum: Spectrum
Replies: 4
Views: 2134
Hi Jonathan,
I have such a tube and also come to a nice spectrum. The measuring time was 6 hours. Peter