Search found 148 matches
by Peter-1

26 Jul 2019, 22:57
Forum: Spectrum
Replies: 6
Views: 1011
Hello, Months ago I measured a sample with 4 grams of trinitite. The background was 17 CPS with the 4 grams of trinitite, then 26 CPS. Measuring time over 12 hours. In the diagram the background has already been subtracted. Unfortunately, I have no source where I could buy something else. 2018_10_25...
by Peter-1

08 Jul 2019, 02:14
Forum: Spectrum
Replies: 3
Views: 951
Hi Massimo, that's great fun. I'm feeling much better by laughing. and so you stay young and do not age. In January, I saw the part and wanted to know how strong it radiates and whether Thorium is clearly visible. Here is my result. Background 15.7 CPS , with Quantum P. i have 53.8 CPS. Peter https:...
Hello,
the background is 15.8 CPS and with granite i have 25.8 CPS.
Peter
Hi, the overall weight of the granite blocks is 220 gram.
Peter
Hello, I found these nice granite cubes in a shop in Germany ( 5€ only). They should serve as ice cubes. Since granite always contains some uranium and thorium, I wanted to know how well it is detectable. Here is my attempt. Granit-3.jpg 2019_06_25-Granit-Würfel.png All expected lines are clearly vi...
by Peter-1

21 May 2019, 03:54
Forum: Spectrum
Topic: Fukushima Soil
Replies: 22
Views: 5234
It has left me no peace
and so I have measured again. The resolution is certainly not bad, but I can not see more with my 2 "x 2" NaI. Peter
by Peter-1

16 May 2019, 04:02
Forum: General discussion
Topic: Radiodating using NaI(Tl)
Replies: 11
Views: 4595
hello,
if I understand correctly, zircon contains the elements uranium and thorium with their decay products. So you should see these lines. Or are there other lines? That has to be measured well.
Peter
by Peter-1

14 May 2019, 02:51
Forum: Spectrum
Topic: Uranophane
Replies: 2
Views: 793
my last measurement
with a mineral uranophane from menzenschwand in the black forest, germany.
The slight decay intensities could not be resolved. Peter
by Peter-1

02 May 2019, 19:54
Forum: Spectrum
Replies: 14
Views: 3090
hello Conor, I'm a little surprised that immediately after the peak 661keV no more lines, no noise is visible. I also use theremino and made many attempts to find the right fit. I suspect that the sound card can not handle the signal. As a simple test, I suggest taking the salt KCl as a test. If the...
by Peter-1

28 Apr 2019, 23:22
Forum: Spectrum
Replies: 14
Views: 3090
Hello
I made a quick test with only the background and with my Cs137 from fukushima. And now ?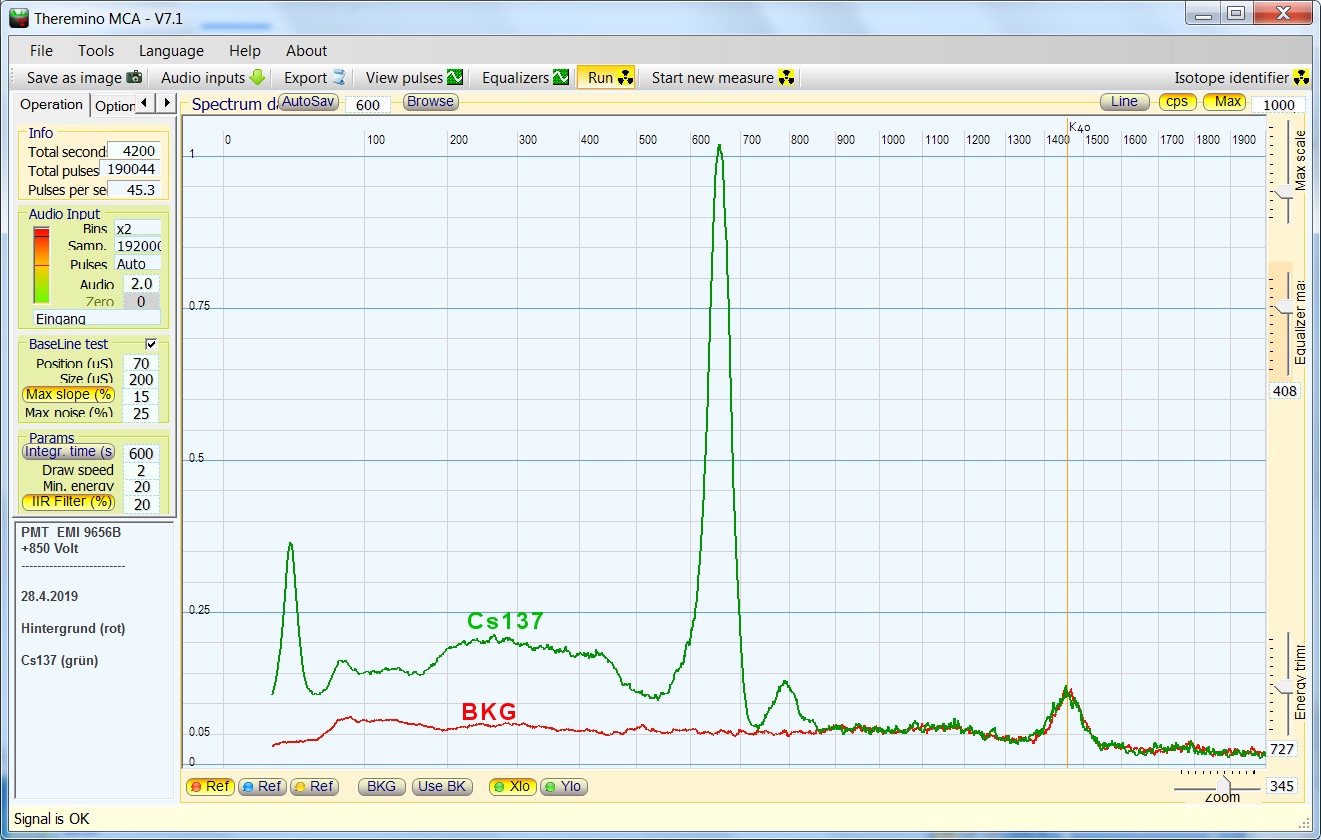 Peter