Posts: 677
Joined: 27 Apr 2015, 11:40
Location: Sydney
Contact:
Conor,

Yes that is strange, I am not familiar with the Theremino adapter circuit, so I can't comment.

Steven
Steven Sesselmann | Sydney | Australia | gammaspectacular.com | groundpotential.org | beejewel.com.au |
---
hello Conor,
I'm a little surprised that immediately after the peak 661keV no more lines, no noise is visible. I also use theremino and made many attempts to find the right fit. I suspect that the sound card can not handle the signal. As a simple test, I suggest taking the salt KCl as a test. If the peak comes right everything is ok. See the example made with 150 gram KCl.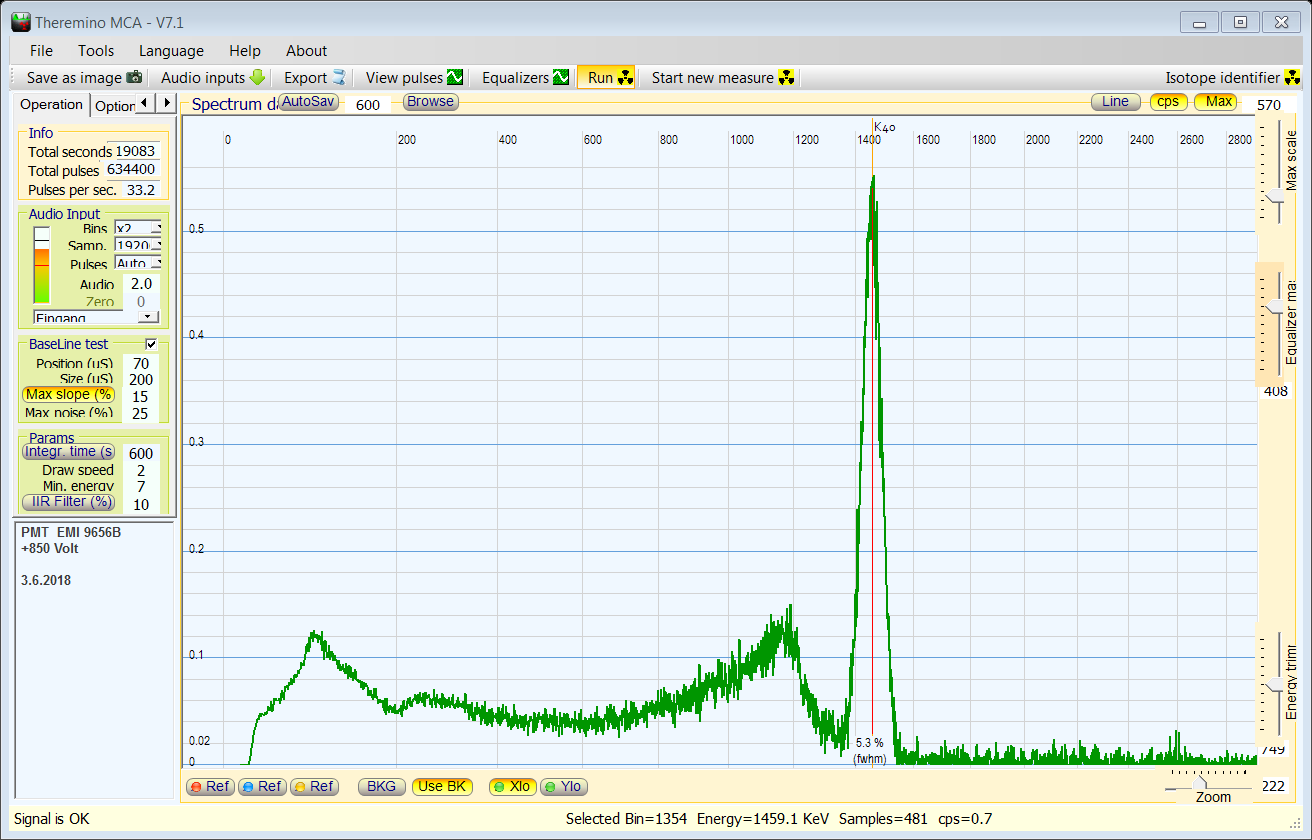 Peter
---
Posts: 46
Joined: 28 Apr 2019, 15:06
Contact:
The sound card is the default from Theremino MCA. You're right about the spectrum not showing beyond 800KeV. I haven't seen this unless I use PRA.
In PRA I have seen lines all the way to 3MeV. I think Theremino MCA 7.3 is having problems resolving some of the higher energies... not too sure why/
---
Posts: 7
Joined: 09 May 2019, 03:10
Contact:
Nice catch Conor.
George Dowell
Conor Whyte

wrote:

↑

02 May 2019, 16:23

Well the problem seems to be solved now. I tried upping the voltage slightly to 845V and the parasitic peak dissipated quickly. So, it appears that the theremino PMT adapter has a stability problem at its lowest setting of 800V. Measuring the output at the lowest voltage drift about 10v over the course of ~30minutes.

upping the voltage helped stabilize the output and the drift was minimal, even after an hour.

Weird...
---
Posts: 46
Joined: 28 Apr 2019, 15:06
Contact:
So, I have concluded that the sound card that comes with the Theremino MCA is actually sampling far lower than advertised. The issue is pulse pile up which is why there was poor separation between Mn54 and Cs137. The chipset is unknown... looks like a copied ADC chip.
---
Users browsing this forum: No registered users and 2 guests